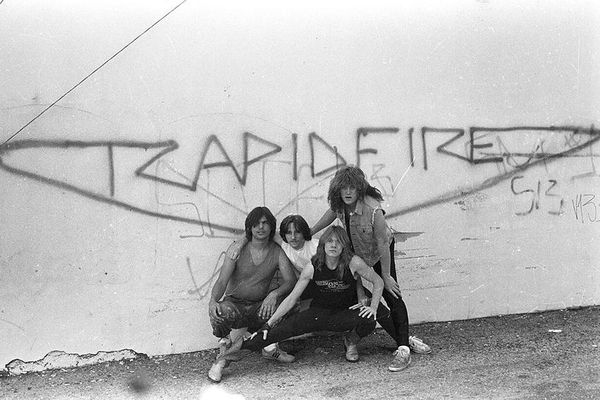 Kevin Lawrence is a musician who created in the 80's a rock band named "Rapidfire" in which he played the guitar accompanied Mike Hamernik on bass, Chuck Gordon on drums, and a Bill Bailey alias Axl Rose singing.
Together in 1983 they composed and recorded a demo tracks or figure 5 the following titles: Ready to Rumble / All Night Long / The Prowler / On the Run / Closure.
This training was the first group in which Axl Rose made his debut.
Kevin Lawrence guitarist / producer and composer Rapidfire agreed to answer my questions to learn more about his influences on Rapidfire, his meeting with Axl Rose ... Interview with a friendly person.
GN'R Lies : Hi Kevin, first of all, what were the first artists who have marked you most as a child?
Kevin Lawrence : AC/DC\'85. Hands down. Malcolm the riffmaster and Angus the soloist. I had the best of both worlds in one band, and Bon Scott? Oh my, it was a golden time to be a rocker. I also loved Y&T, Judas Priest, Queen, Elton John, Iron Maiden and some others, but basically I tried to emulate Malcolm, Angus, and Bon, with my own style.\
GN'R Lies : What was the first rock album you bought?
Kevin Lawrence : Queen. News Of The World. Still love it. The whole band is amazing and so diverse.
GN'R Lies : By what instrument did you start? Guitar ?
Kevin Lawrence : Yes. A Gibson SG like Angus. Against my father\'92s wishes my Mother bought me a guitar for Christmas in 10th grade and I just basically taught myself with the help of a few rockers in my high school.
GN'R Lies : What were your first band before "Rapidfire" ?
Kevin Lawrence : Rapidfire was my first band. I had a vision since the days of playing in my basement and I planned to carry it out with my own band that I built, one hand picked member at a time.
GN'R Lies : How did Rapidfire and who is the origin ?
Kevin Lawrence : Well, I knew Chuck from jr. high school so we naturally started the band together. He is a great guy and an amazing drummer. Then at college I met Mike and asked him to come jam with us and he played well so I asked him to join. We were now a three piece with me singing. I wanted a four piece band but we gigged anyway with me on vocals until I met Bill.
GN'R Lies : Tell us about your first encounter with Axl Rose?
Kevin Lawrence : It was really uneventful. I was at The Troubadour one night checking out the scene, I happened to be looking for a singer because my vision of Rapidfire was a quartet not a trio, but this one night, I wasn't actively looking, and I happened to grab some air at the right time, and there was Bill, grabbing a smoke, wearing a white leather motorcycle jacket, and I thought maybe I had seen him around the clubs here and there, that white jacket certainly stood out. He seemed kind of shy but still looked to be a cool guy just doing his thing and so I struck up a conversation with him. He said he was a singer, but he was not in a band\'85 and I just asked, "Do you have a PA?" And he did, which was a major plus, because hardly anyone ever had their own PAs. So we set up an audition, and he killed it, but he basically already had the job because he had a PA.
GN'R Lies : How was he as a man at the time?
Kevin Lawrence : Like I just mentioned, he was a quiet, serious dude, thoughtful, nothing like the way he soon came to be portrayed in the media. He was ALWAYS on time, and our first show was barely about a week after our first encounter. He drove out to my drummer, Chuck's house in Encino, and he nailed it. He was already a trained singer, again, hardly anyone else around being real singers, but he knew what he was doing. I handed him about twenty songs to learn and he did it. Fast. It was incredible.
GN'R Lies : What was it like a concert of "Rapifire"? Is what was original compositions and cover in your setlist?
Kevin Lawrence : The Rapidfire shows were awesome. I mean think about it, there I was on the Sunset Strip with my band, playing my songs and we kicked ass from day one. At Gazzarri's for example, the MC would announce us and we'd march down the backstage stairs onto the stage, the crowd was there waiting for us and we just wanted to kill it for them. And we only played original music, and the main reason was that I cannot or do not have the ear to play other people's songs. I'm self taught mainly, though Greg Steele from Faster Pussycat who went to my high school did teach me some chords, but I had to write all my own songs to play.
GN'R Lies : At the time you save the five demo on a cartridge eight track, it was what the studio ?Kevin Lawrence : We recorded the five tracks at Telstar Studios in Burbank, California.
GN'R Lies : On a visible extract on youtube, mention is made of 25 May 1983, this is the exact date that happened recording ?
Kevin Lawrence : Yes, All in one long night of playing, producing and mixing. It went into the wee hours of the morning and the engineer and I were all that were left to do the final mix down which to this day I am proud of.
GN'R Lies : How was the process of composition in "Rapidfire" ? -
Kevin Lawrence : Stuff just came to me quickly. I wrote these songs while I was in high school, they were just flowing from me like I was channeling something. I just liked writing riffs and lyrics.
GN'R Lies : What Was the atmosphere during these recording sessions ?
Kevin Lawrence : It was a long, but professional night, master tracks and my overdubs and solos. But an interesting thing did start occurring. Bill began to raise his voice to higher octaves than he had been using before and it wasn't right for my songs. Obviously we found room and ways to use it in pretty awesome ways for parts of several songs, but overall, I was having to direct him back to his full, guttural voice from his diaphragm. Clearly his higher voice was a direction where he wanted to go. But still, like I've said, Bill was totally professional and cool with everything I wanted for that session. I think he respected that it was my band on my dollar and he was committed to the music and professionalism.
GN'R Lies : Why adventure "Rapidfire" has stopped?
Kevin Lawrence : Well, Rapidfire with Bill stopped because he and I had distinctly different visions for where our band would go. At our last show together, he for the first time arrived late which was aggravating enough, but his entire look was outrageously different. His red hair was teased, it looked like a sunburst. He had makeup on, lipstick, glitter maybe, and his cool white jacket\'85 he had dyed it pink. We still kicked ass onstage, but afterwards backstage, Bill and I agreed that we should part ways amicably. But Rapidfire continued after Bill for several years. I took over the singing and we recorded more tracks which people will be hearing in the next year. I eventually changed my band name to just Kevin Lawrence after I really turned it into a solo project, though still working with Chuck on drums. Chuck is a great drummer and loyal bandmate.
GN'R Lies : Are you still in contact with members of "Rapifire" ?
Kevin Lawrence : With Chuck, yes. We talk all the time. With Bill or Mike, the bassist, no. I did bump into Axl one day about ten years ago and it was pretty cool. He and I were always cool, always got along. He asked about the recording and I said I'd send him a copy but he never called me back.
GN'R Lies : Have you followed the career of Axl after its passage in Rapidfire "and have you kept contacts with him?
Kevin Lawrence : I couldn't not follow it when his band got so huge, but I don't actively follow it now, though people and friends definitely let me know about things going on in his career.
GN'R Lies : What made you decide to want to publish these demos?
Kevin Lawrence : Because fans around the world have been contacting me asking about them for over ten years. It was really cool stumbling across the tapes and then everyone who happened to hear the first mixes were really impressed. It seemed like almost everyone wanted them released. Almost, I repeat. And it's fun, it was an awesome time to be a part of and it's a thrill to publish them for the Gunners.
GN'R Lies : Thank you very much for taking the time to answer these questions.
Kevin Lawrence : Thank you Eddie.
Special thanks to Kevin Lawrence and Adrian Orcel.
Interview by Eddie GN'R Lies. Thank you not use without permission.